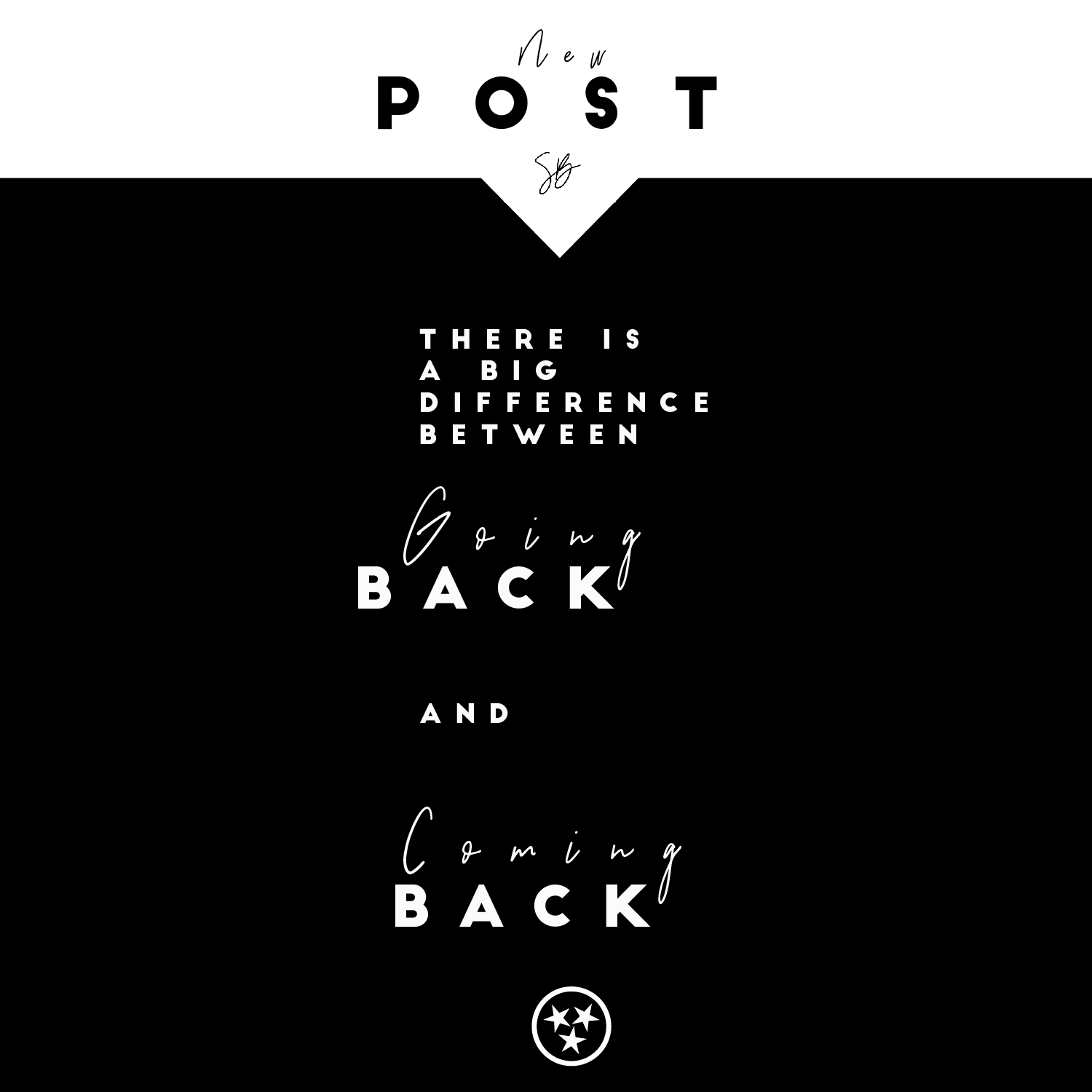 There is a difference between coming back and going back.
You can't ever go back. Going back means you think you are going to walk back into a situation and it is like it has always been.
Coming back is different. When you come back you bring everything you have learned in the season you were not in the place you are returning.
It's time for us to go home. We are coming back to Nashville. We know we can't go back, but it is so exciting to know we are coming back.
If you have followed our journey at all over the past 2 years you know that life has had some corners for us to navigate. It has been so challenging. We have had wins and losses. We have been hurt and probably, unfortunately, have hurt others. Over the course of the last year, we have done a lot of work to get healthy. We found some mentors, we went to counseling, we apologized to a lot of people, and we found us again. In finding us, we knew it was time for our NEXT.
So what does NEXT look like?
We are coming back to Nashville, TN. Today. Moving to our new home tomorrow. We love our people and most of our people, our tribe, live in the 615, so we are taking a page from "The Last Arrow" and choosing to come home and invest in the people who have invested so much into us!
We are going to keep serving the local Church. We are joining forces with the 4Sight Group to help churches and leaders get healthy through consulting. We believe it takes a healthy leader to lead a healthy church. Partnering with Jenni is so exciting. We have a bunch of plans but today we are so excited about consulting with churches to help build culture, values, systems, pipelines, and strategies to get healthy, grow, reach your potential, and maximize the calling on your life.
Yes, we will still be coaching! 
In fact, we are taking coaching to another level. We plan three tiers of coaching now:
ONLINE – An affordable way for you to get through 3 programs that build on each other. Our next online coaching session will start in August!
ONE ON ONE (Individual) – 6 months of one on one calls. You can find out more here.
 IN PERSON – For the first time I can come to you. I'm so excited because I already have a few friends who have engaged in this option. I will come to spend a day or two with you, pour into your team, and set up follow up calls to make sure what we do sticks! Email me for more info
Helping our friends, like Elevation Worship, Jon Acuff & others! 
Marketing has always been an amazing part of our story. We love helping people clarify their message and tell better stories. Some of our friends, like Jon Acuff, have allowed us to work with them on marketing their organizations. We will be telling you more about this in the next few weeks once they have told their friends.
Music is also a big part of our story! We are helping consult Elevation Worship and are close to helping a few of our other friends making worship music. We can't stop loving artists!
Finally, we want to put out some new content.
@CRTVChurch has asked us to host a weekly IGTV show answering questions from Creative Leaders. If you have a question about creative leadership, please email me a video of your question here. This will launch in just 2-3 weeks so stay tuned. Further, Jackie and I are releasing our own podcast on August 1! We are releasing in seasons and season one is about health! Our guests did such an amazing job talking about health and healthy environments. Join Jud & Lori Wilhite, Miles Adcox, Beth McCord (Your Enneagram Coach), William Vanderbloomen, and Mike Foster! It is going so much fun to talk about topics in seasons and releasing them all at the same time!
Thank you for being our friends, for journeying with us, and for cheering us on the way you always have! We are scared, excited, and feel God moving in all of the new endeavors that we are chasing. Stay tuned, who knows what will happen next!
Don't hesitate to shoot me a text 615-457-7261 or an email B@StephenBrewster.me